Popular among connoisseurs and casual drinkers alike, Spanish wine is famed for its exceptional quality, diverse flavor, and rich cultural heritage. Spain boasts a warm climate ideal for grape-growing, with varied terroirs, fertile soils, and ancient winemaking traditions dating back through the generations. These factors combine to make Spain's wine scene a joy to explore, and in this blog I'm delighted to share insight into my top 10 Spanish wines.
If you'd like to learn more about the grape varietals, fertile vineyards, and innovative wine producers of Catalonia, the team at Wine Fantasy Barcelona would be happy to share our insight with you in person. I run relaxed and informal wine tastings in Barcelona along with exciting cava and wine vineyard tours in the Catalonian countryside, and would be delighted to welcome you here in beautiful Catalonia. 
The Rich Diversity of Spanish Wines 
There's a dazzling range of grape varietals that thrive in the warm Spanish sunshine – from the bold and full-bodied Tempranillo in La Rioja to the aromatic Albariño of Rías Baixas – and each offers their own distinctive characteristics. 
On top of this, Spain's winegrowing terroirs take in the lush landscapes of Galicia, the arid plains of La Mancha, and more, offering a broad selection of soil types and microclimates which suit the vines in many different ways. 
This diversity goes a long way to explaining the sheer depth of flavors we find in red, white, and rosé wine (or vino rosado) right across Spain. 
Ancient Winemaking Traditions Meet Modern Techniques 
Spain's winemaking traditions are deeply rooted in the country's culture and history, which adds a welcome splash of authenticity to the exciting wines produced. Time-honored techniques such as manual harvesting and oak-aging have always had a huge part to play in the character, complexity, and sense of place found in Spanish wines.  
And although history of course has its place, there are plenty of bold winemakers throwing out the rulebook, harnessing the power of technology to create innovative new techniques.  
The result is wine that showcases both heritage and innovation in equal measure – a harmonious balance that captures the essence of terroir, while at the same time pushing boundaries to excite the palates of wine enthusiasts worldwide.   
The Shortlist: My Top 10 Spanish Wines   
I've been fortunate enough to sample wine in many far-flung corners of Spain over the years, and I'm rarely disappointed in the flavour combinations I find. But there are a few stand-out wines to shout about, so here's a rundown of my current top 10 Spanish wines.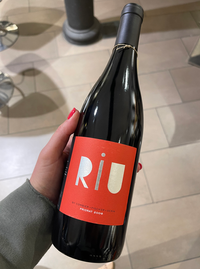 Riu 2008, red blend – Priorat  
One of my favorite vintage wines, the 2008 Riu is a blend of Grenache, Syrah and Carignan. The 2008 blend has aged so beautifully, not in oak, but over 18 months in stainless steel. This is a fruity and juicy take on the classic Priorat wines, and worth every cent of its 32€ price tag.